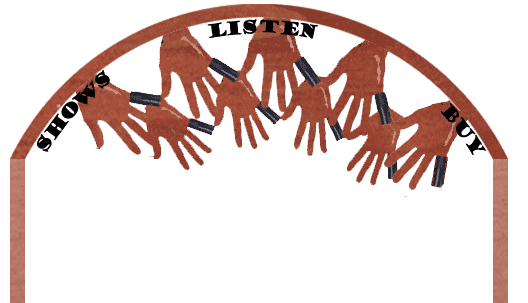 What is
Uncommon Sound
? youíre probably asking. Well, itís a book about left-handed guitarists, but not just a simple book. Itís a beautiful, well-written, extensive, and thorough two-volume tome covering everyone from the most visible lefties like McCartney and Hendrix to lesser-known jazz, r&B, blues and world music guitarists. It even has two pages devoted to my brother Joe and me. As you can see from the photos of me enjoying my copy of
Uncommon Sound
, it is a book that will intrigue, entertain, surprise, and satisfy.
This is a great book for any music lover to have, because it doesnít go over the same old territory. It covers a ton of guitarists, many of whom you may have never read about, some of whom you have probably always wanted more info on, and it presents a new angle on the ones you are familiar with.
Click here to get more info at the Uncommon Sound website.
Unfortunately, The Uncommon Sound website is gone, so this is a dead link. But I think my page here about it is funny, so I'm leaving it up.
Tiger Gagan's slide guitar playing is ferocious fun. He puts his songwriting on songs that will be fun for the audience. He does this using electric guitars, usually a Telecaster, with homemade tube amps he builds himself. That's tube amplifiers, old fashioned style. He gets a fine raw sound that's filled with excitement and fun. He performs as a solo act, singing and playing slide guitar,and also as leader of the instrumental blues rock and surf trio Wild Animal. It's slide guitar, it's ferocious, and it's fun.